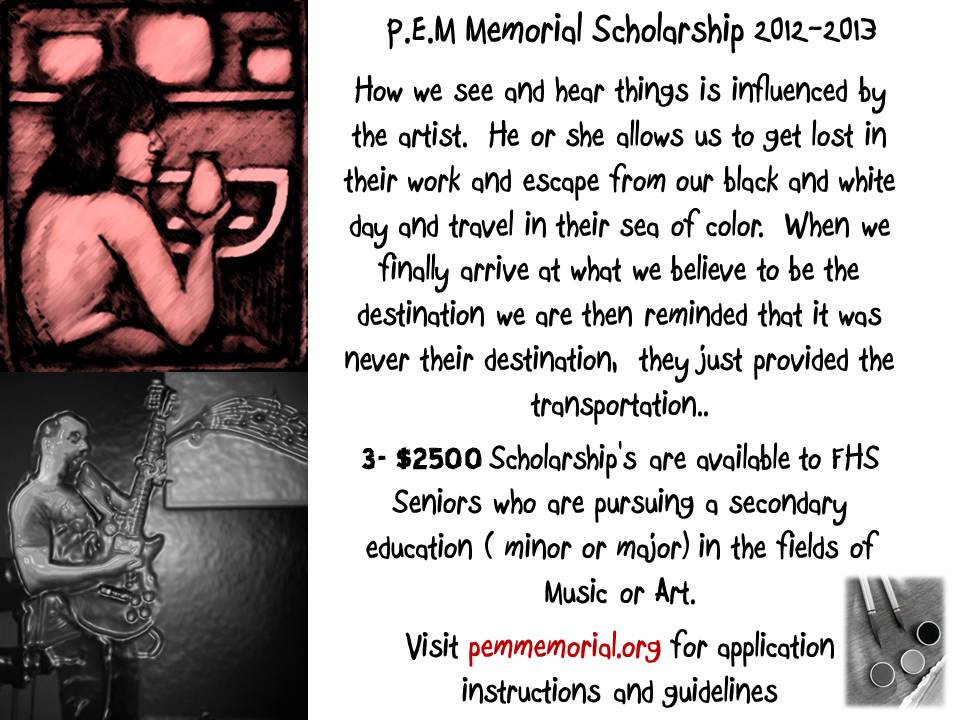 The Preston-Eckerle-Morrison Memorial Scholarship (P.E.M. MS) is designed to financially assist qualified students in obtaining degrees from accredited academic institutions of higher learning in the field of the Arts or Music with any relation to these disciplines. The scholarship is open to any Finneytown High School (FHS) senior whom is preparing to enter an accredited degree-granting college or university and pursuing a bachelor degree. The goal is to award three one-time awards each year; the amounts will be determined by the sum of the annual collection through fundraising and gift giving. The scholarships are awarded based on merit as measured by academic performance and extracurricular activities.
Please download a copy of the guidelines here (PDF):
You also need to download the application here (PDF):
Please e-mail completed applications here, or to John Hutchins' e-mail listed in the footer of the web site.
Or you may send the completed application to:
John Hutchins
10038 Winlake Drive
Cincinnati, OH 45231
Thank you for the interest and time in the scholarship, and we wish you the best of success and luck in the future. We welcome all serious applications from Finneytown Seniors, and hope you visit here again to help support future Finneytown students, via any donation you could offer or by attending our event fundraisers.